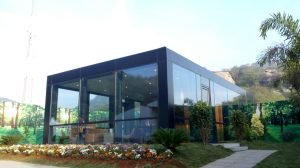 We have extensive experience in cooling (and heating) projects in different types of buildings. Our systems have been implemented in Commercial Offices, Warehouses, Institutional Buildings, Factory Shop Floors, Aircraft Hangars, Military Barracks etc. 
Our team has experience of implementing system pan-India in climatic conditions varying from +48 deg C to -30 deg C.
Office Building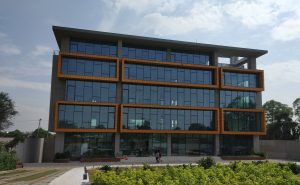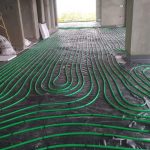 Office building in Jaipur where peak summer temperature touches 48 deg C and the lowest winter temperature goes to 3 deg C. We have installed complete HVAC system providing cooling and heating using radiant cooling/heating with chillers & heat pump.
Industrial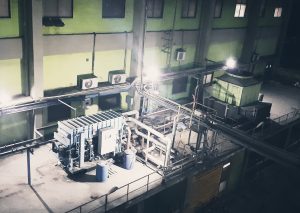 Waste heat from industrial process is used to drive an absorption chiller and is installed at Kadapa, Andhra Pradesh. Heat radiated to the ambient from the cement kiln surface is captured and chilled water is generated for cooling using a thermally driven refrigeration system. The system is integrated with existing chilled water network and reduces the operation time of existing electrically driven chillers.
Educational Institute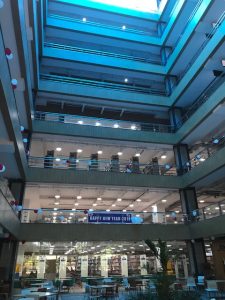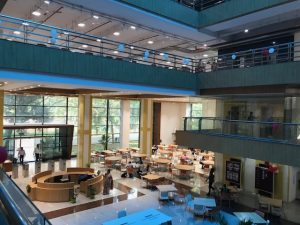 A building housing the library and lecture halls at a university in Vijayawada, Andhra Pradesh where we installed multiple energy efficient cooling technologies – radiant cooling, thermal storage, heat recovery etc. and brought down the connected by 60% compared to the initial design.
Mixed Use Building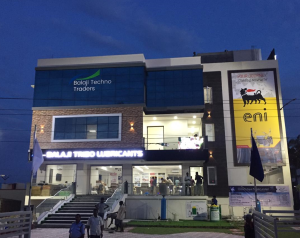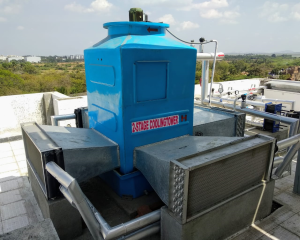 This mixed use building in Chennai uses a hybrid cooling system that uses split ACs along with Structure Cooling. With conventional design the building would have used 40 TR of split ACs for cooling, but using Structure Cooling to flush out the building heat the capacity of split ACs was reduced to only 13 TR. Structure cooling is a low cost, low energy cooling system that uses 90% less energy than conventional air conditioning system.
Government Building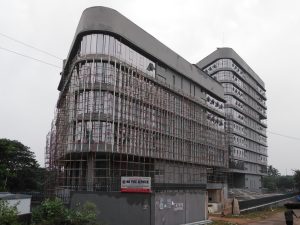 A complex of three buildings for a government department in Bhubaneswar, Odisha where geothermal cooling has been installed. This is the largest geothermal installation in India so far. A fresh air precooling system using geothermal has also been installed. The total capacity of the system is 400 TR.
Exhibition Hall
This exhibition hall is part of Dilli Haat Janakpuri, in Delhi. Oorja installed Radiant Floor Cooling system for energy efficiency and better aesthetics. Installation of radiant cooling allowed for a clean look without any air ducts being visible.
Warehouse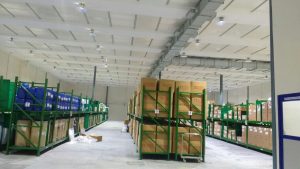 Finished goods warehouse for a pharma company in Hyderabad. Indoor temperature needs to be maintained 24×7 at 22 deg C and RH at 50% . This was achieved using specially designed radiant cooling panels installed on the ceiling and walls. Oorja helped reduce the connected load by 60% and implemented the entire project in a turnkey mode. This is the only warehouse in the world that uses radiant ceiling and wall panels for cooling.
Multi-Tenant Building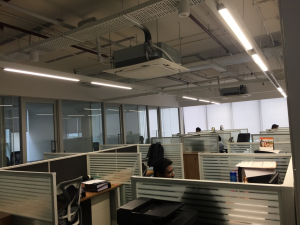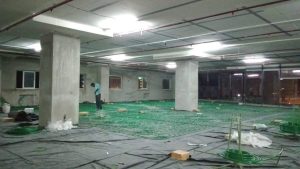 A 10,000 sq. ft. office space in a multi-tenant building in Hyderabad where we have installed radiant cooling system on a turnkey basis. We were able to deliver the project even though the building was not designed for a chilled water system. VRV system was used for humidity control.
Aircraft Hangar
The first aircraft hangar in India that is climate controlled using radiant heating technology. Radiant Floor heating was chosen for controlling the temperature in the hangar as it is difficult to maintain the temperature with air conditioning. Hot air escapes out whenever the hangar doors are opened and it again takes a few hours to achieve the required temperature. On the other hand, radiant heat system does not loose the heat as floor as a large storage of heat and comfort can be established quickly in the hangar. The installation is in Srinagar, J&K.
Military Barrack
This is first of a kind project in the world where a border outpost is using renewable & energy efficient technologies to provide comfort indoors to the soldiers. The building is in Ladakh and uses radiant heating, solar thermal, solar PV and geothermal heating technologies. The outdoor temperatures in winters dip to -30 deg C. Oorja implemented all the technologies in a turnkey mode in this hard mountainous and remote terrain.
College Dormitories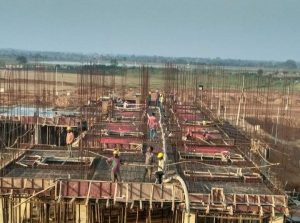 Structure Cooling system for college dormitories has been installed at Raipur, Chattisgarh. The buildings are designed for low energy cooling using structure cooling, fans and natural ventilation based on principles of adaptive thermal comfort.
Factory Shopfloor
Radiant Cooling Panels were installed at a factory shopfloor in Chennai to maintain comfort for the occupants of the space.